| | | |
| --- | --- | --- |
| | My Jetski Page | |
I started jetskiing the summer of "94". A buddy of mine Keith, purchased a 1994 Seadoo spi and invited me to go along on its maiden voyage. Well thats all it took, I was hooked. About two weeks later I purchased my first jetski, a 1994 SP. I thought that ski would cover my needs, but by the end of summer I was wishing I had bought a faster ski. Let me give you a word of advice, if your planning on buying a jetski, spend as much as you can, it will save you from trading it in later for a bigger/faster ski. I bought my second ski, a 1997 Seadoo SPX at the beginning of 97. Man, that was one fun ski (59 mph top speed).
Well about a year later Sabrina and I got married, the SPX was still a fun ski but when we rode together we found it to be really unstable at low speeds, this took some of the fun out of riding together since it was a chore to keep it balanced soooooo, once again time to make a trip to the Seadoo dealer.
So in Feb. of 98 we purchased a 1997 Seadoo GTX. This ski is incredable, still fast (54mph), with all the bells and whistles. Being a three seater its very stable and comfortable, and surprisingly responsive.
Well enough of my story....Check out the pictures !
| | |
| --- | --- |
| | |
| This is my bud Dave riding in one of our favorite spots "Jullington Creek". Lots of gators here. | This picture was taken during a trip to the keys the summer of 95. If you like jetskiing this is the ultimate riding spot. Thats my other bud Keith in front, I'm in the background. |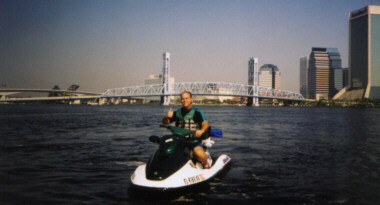 Here I am during a jetski/camping trip that Dave and I went on.We headed out on a Saturday morning and returned Sunday afternoon. It was a 90 mile round trip. My bud Dave goes into more detail along with pictures on his web page. If you want to check his page out click here.
| | |
| --- | --- |
| | Another picture taken during my first trip to the Florida Keys. It was a great trip, made new friends and partied for seven days straight, sun up to sun down. |
| | |
| --- | --- |
| Dave unhooking the skis, getting ready for a trip to Silver Glenn Springs which is a major PARTY spot 95 nautical miles south of Jacksonville. My ski is the yellow SPX. | |